Destination: the top of the opinion index
Come and let Neticle's analysis take you on a train ride across the DACH region's most popular railway stations.
According to the 2021 European Railway Station Index, four out of ten of the continent's most convenient railway stations are in the DACH region. With the Hauptbahnhof of Leipzig sitting at #1 and Vienna's at #2, we couldn't resist taking a look at these railway stations' online reputation. We also added the main train stations of Frankfurt am Main and Munich to the analysis – they have the same score, ranking #5 on the list. Online mentions were collected from the 1st of January to the 15th of August 2021.
While the original index ranked these stations based on general passenger friendliness, online reputation analysis has revealed some facts, events and plans that probably also play heavily into the convenience of passengers. Out of these four stations, Frankfurt's had the highest number of mentions (5366) in this period of time, while the other three all had between 3000 and 4000.
Does it mean that Frankfurt should have been #1? Our sentiment analysis has revealed that the higher mention number also came with more negativity in the mentions for Frankfurt. Vienna and Leipzig had the best overall reputation, like in the consumer index, but in reverse order.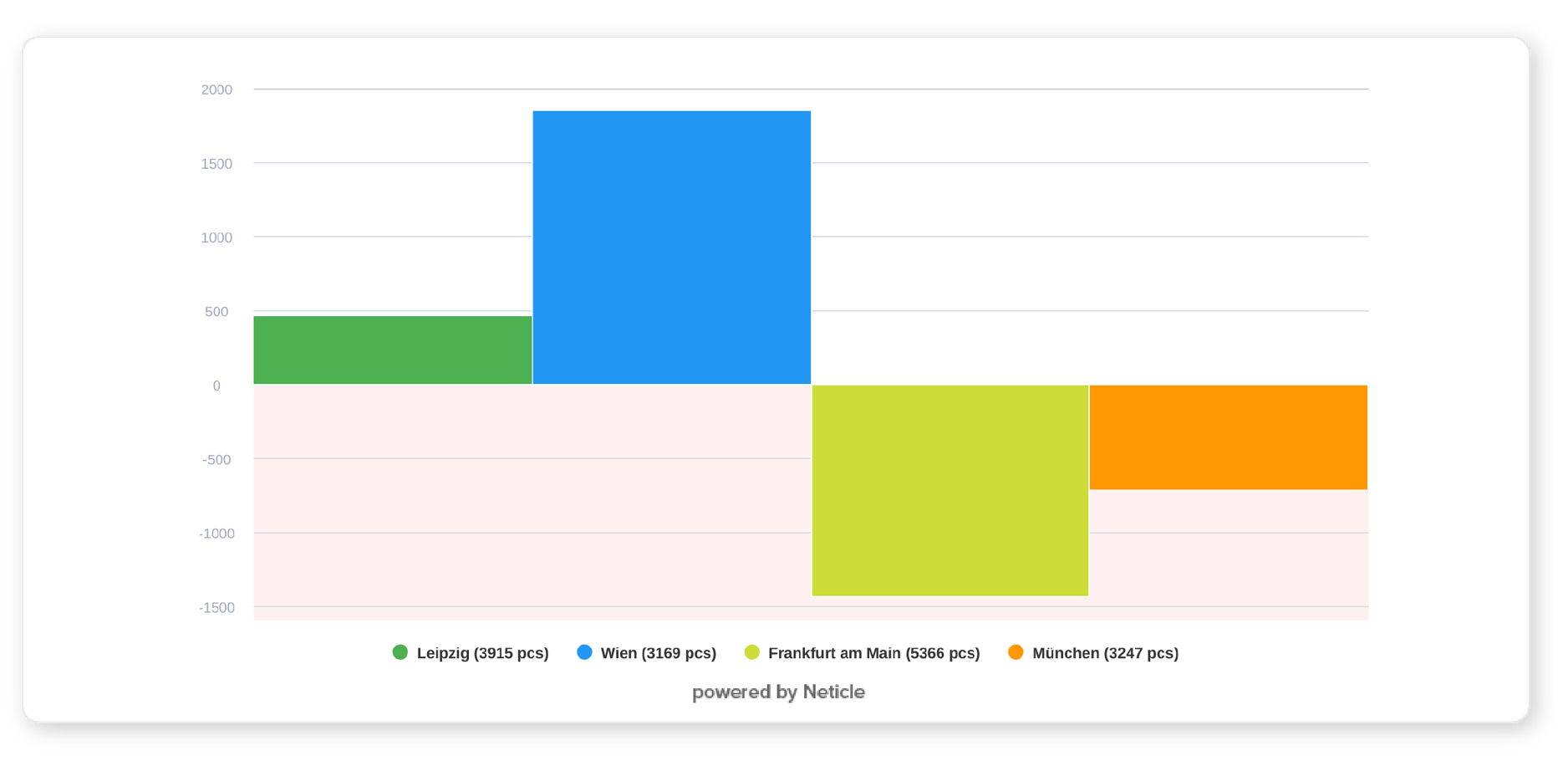 How did we get this result? When we break down the numbers into a daily changing flow, it becomes visible that each station had one or two very negative outbreaks, and many mildly positive days.
Frankfurt's most negative day was the 27th of June: some articles and many tweets started talking about the safety risk that violent attacks by Middle Eastern and African refugees mean, some of which happened at the railway station in recent years. Also, plans were revealed to build a 10-kilometer-long tunnel under Frankfurt's main station to increase capacity for long-distance trains, which would be a costly development and had mixed (but mostly unfavorable) reactions online.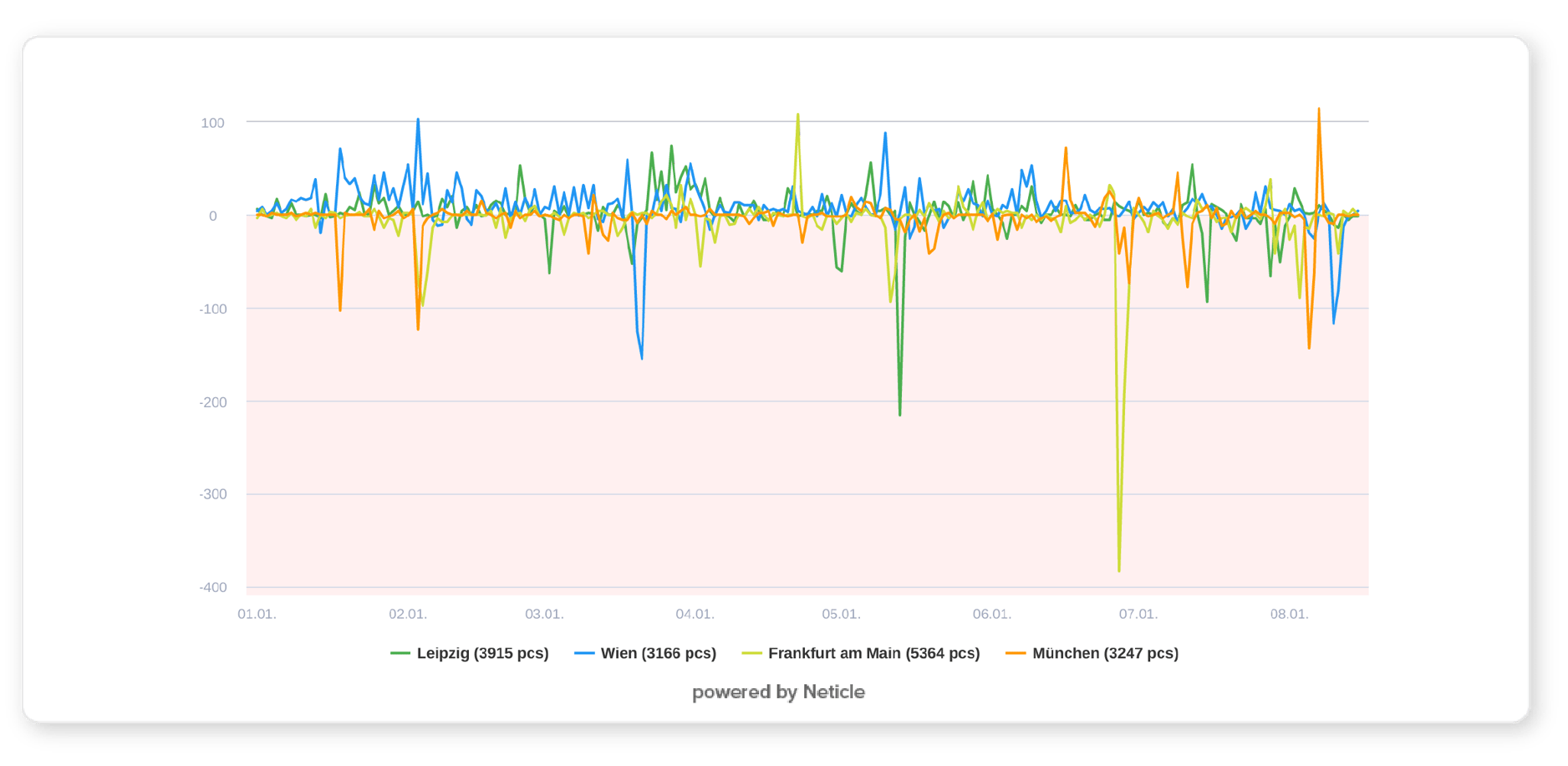 The mood in posts about the stations was mostly good but had some major negative outbreaks, too (Web Opinion Index)
Even though Leipzig remained in the positive zone overall, unfortunately this station received a lot of negativity in May for similar reasons as Frankfurt did later on. On the 13th of May, articles and social media were talking about a stabbing incident that happened the previous day at the station (though this had nothing to do with refugees). Adding to the negativity of the day, the building of the station was lit up in the colors of the local football team RB Leipzig, but the team lost the DFB-Pokal match and negative comments flowed.
In August, Munich's station got a lot of negativity because a woman in a wheelchair got dangerously stuck at the platform when she failed to board a train as it closed its doors, and her only luck was that another passenger noticed her and saved her from falling onto the tracks.
Vienna was the only station that did not have any large peaks due to serious safety issues like the ones above, though in the second half of March there was a protest against the government's COVID-19 restrictions, where the crowd was finally broken up near the railway station and this is why the station's name was mentioned in a very negative context that month.
Shopping centers + railway stations = love
Among the stations' key topics, the aforementioned incidents all appear, which shows how heavily these influenced the online conversations.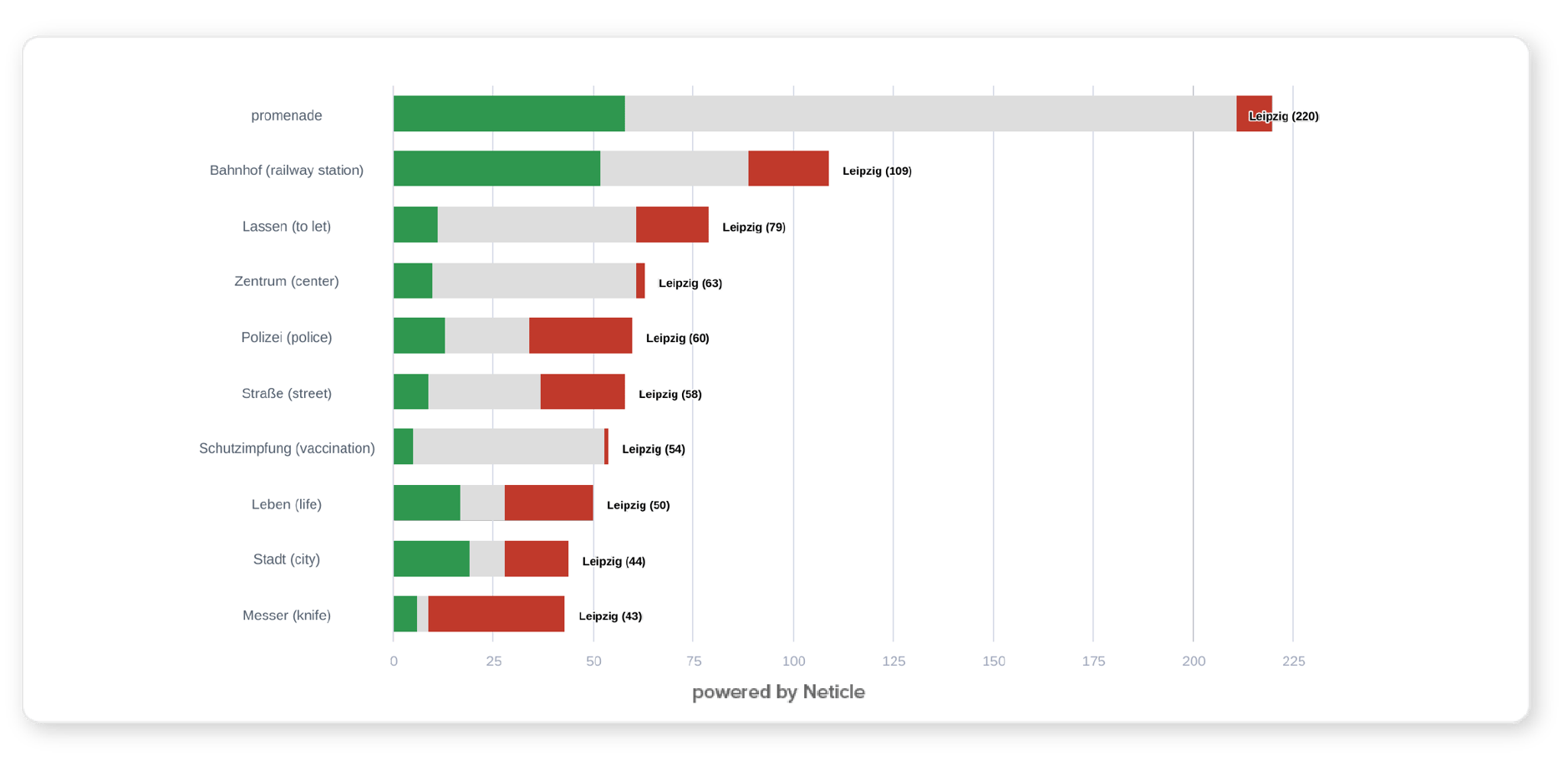 'Promenade' is featured because that is the name of the shopping center attached to Leipzig's station, having a positive reputation overall.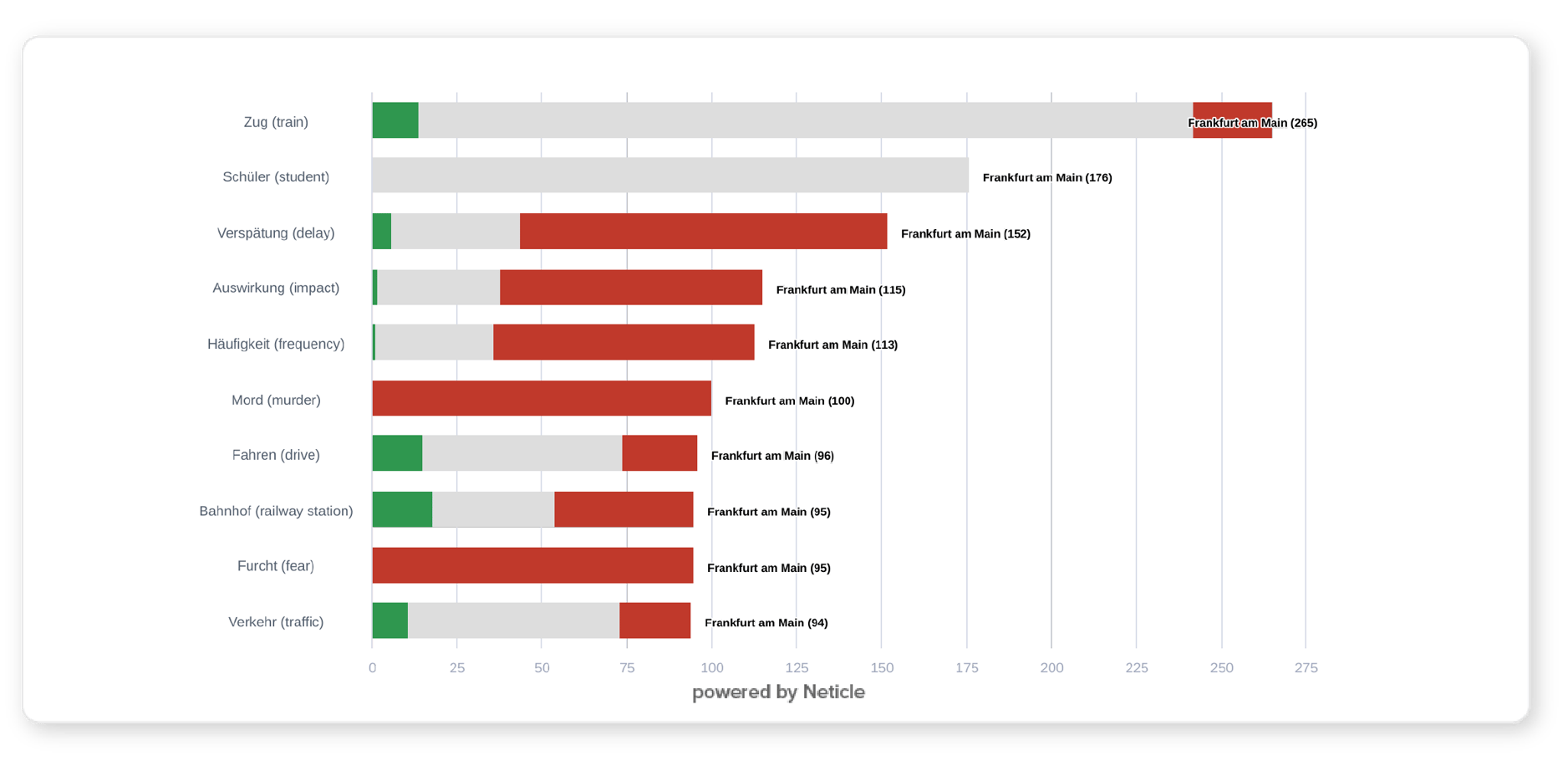 Frankfurt unfortunately also had other negative topics, such as delay and frequency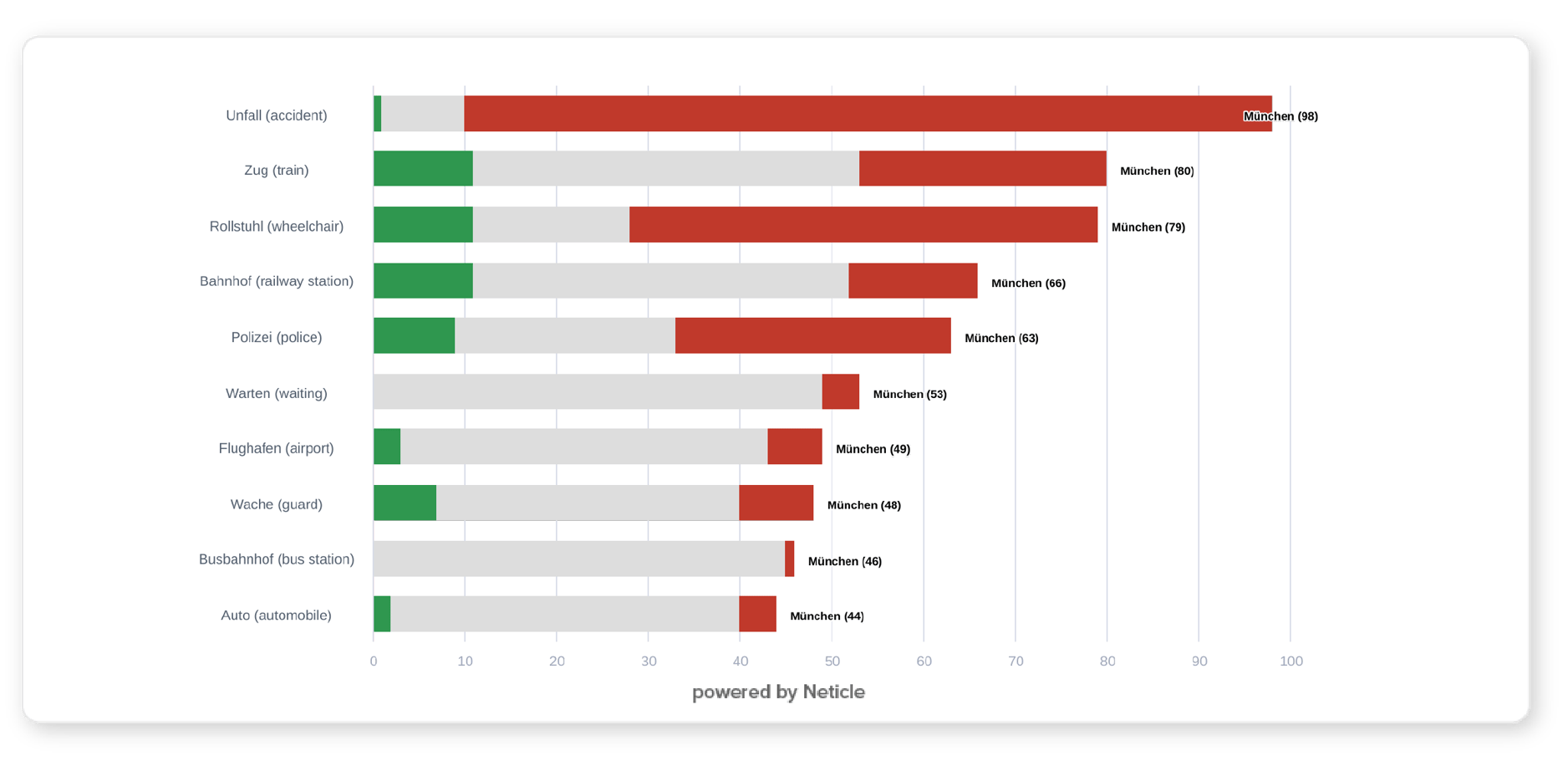 Munich's key topics were mostly negative or neutral at the best, too
Vienna's main station is undoubtedly the most favored in online spaces: the only truly negative topics were 'Coronavirus' and 'Media'. Like Leipzig, Vienna's station also has a shopping center attached, called BahnhofCity Wien Hauptbahnhof, which won the hearts of the online community with its giveaways and other posts as well. It is a popular place for shopping – definitely a factor that had an effect both on the Railway Index and Neticle's Opinion Index at the same time.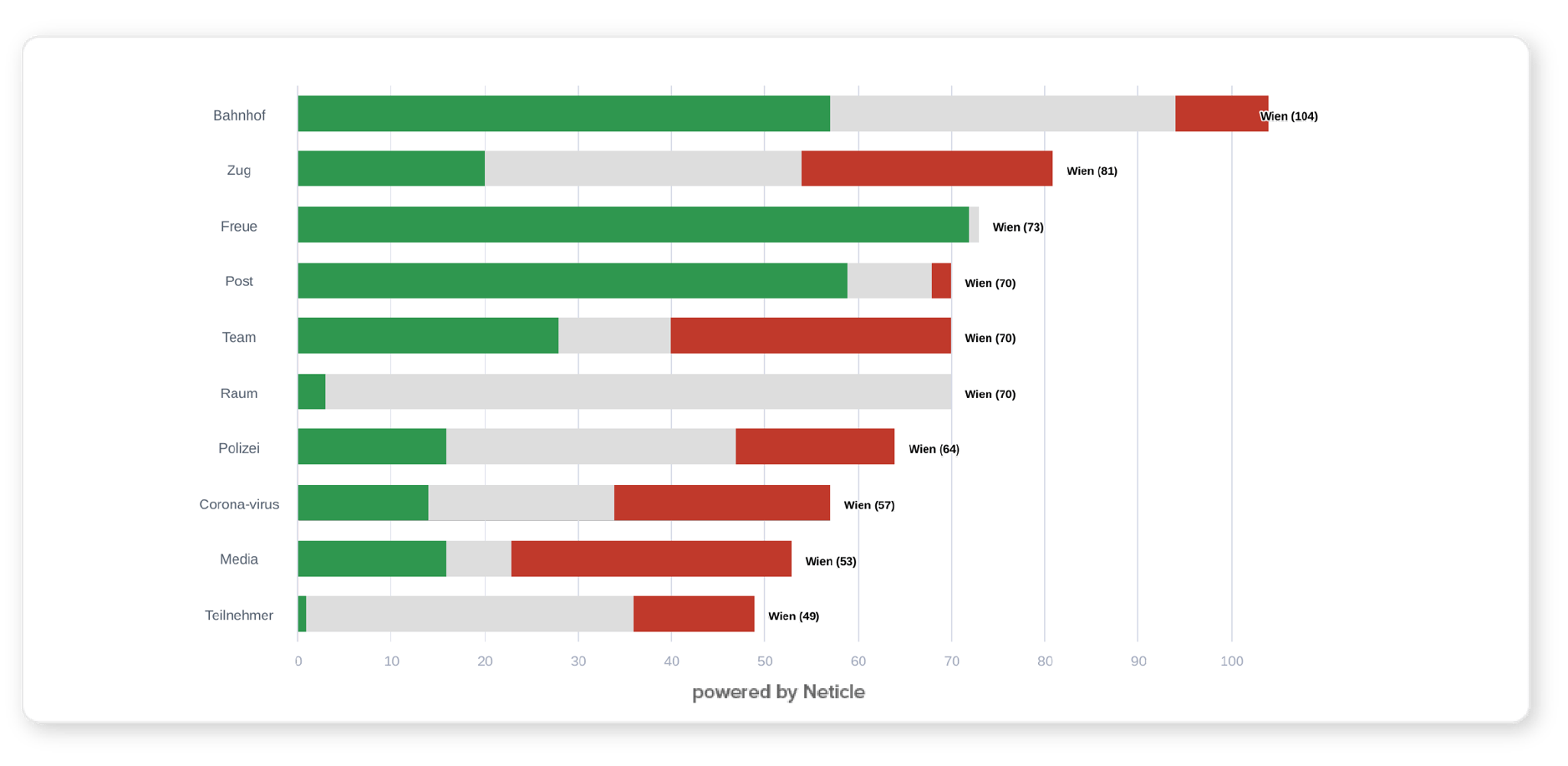 How quickly can I get to my destination?
Based on the posts, comments and articles that mention these four railway stations, key attributes that passengers are looking for are speed, good prices and small distance from important monuments or places – but also a larger distance between people (COVID restrictions). They all have quite positive feedback in all of these areas, and users were also satisfied with the manners of the staff and the accuracy of information given.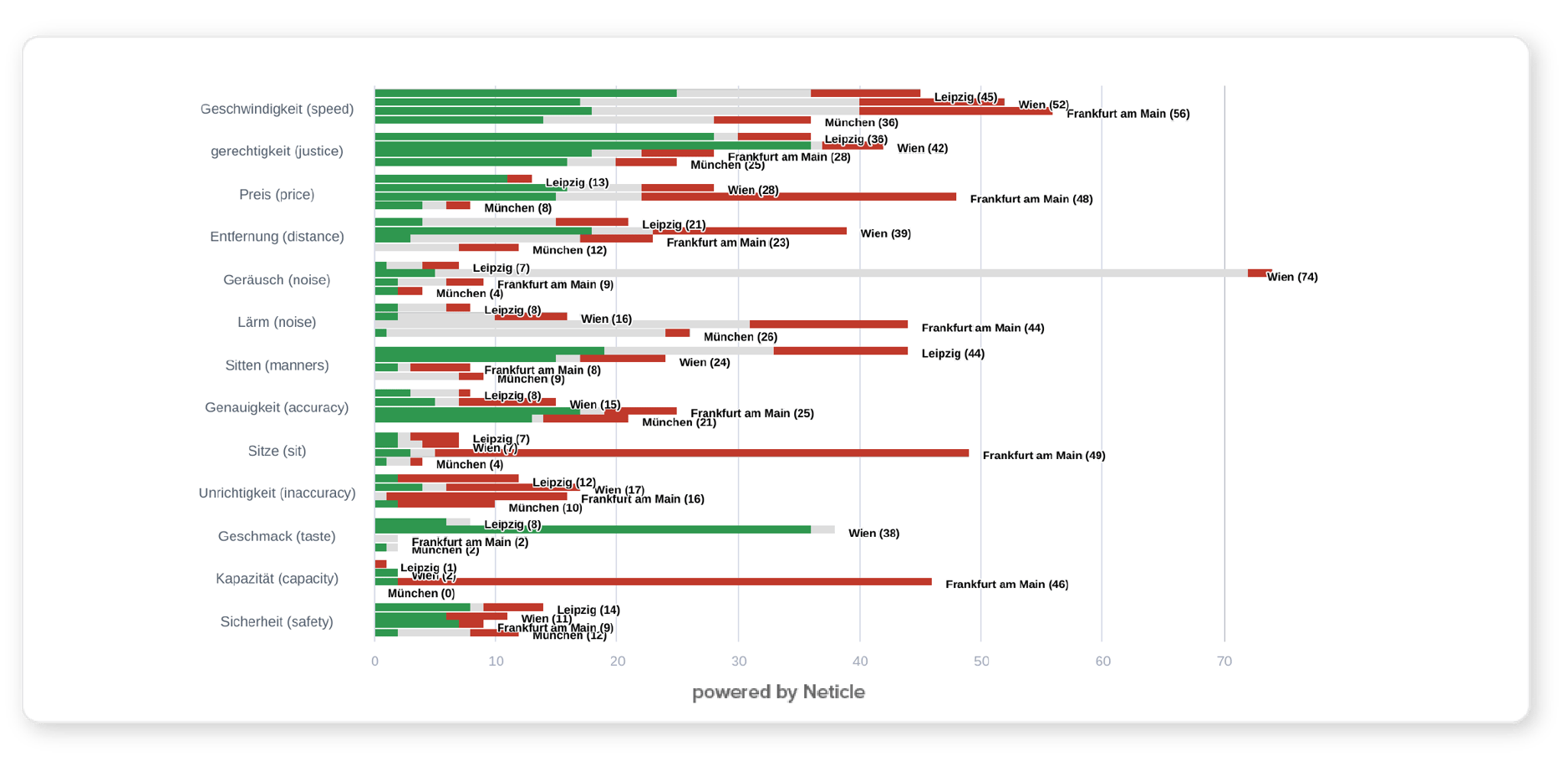 In online spaces, news of even just a handful of notorious incidents can spread quickly and far, and the internet remembers – so these will make a mark. However, these obviously aren't the only factors determining passengers' day-to-day experiences, though they might discourage a few people from traveling by train. As we have seen from the key attributes chart, the four examined stations have done quite well in other, probably more important areas and continue to attract and transport crowds.
---
With the help of a social listening tool like Neticle Media Intelligence, you can collect and analyze feedback from all online platforms - so that your passengers have a great experience at real-life platforms. Why not give it a try?
---

Share: