Halloween sells: a story of spooky & successful retail campaigns
Is Halloween your favorite time of year? If you're sad it's over, we've got something for you: this is how successful retailers across eight European countries approached the holiday.
During the last two decades, Halloween celebrations have been imported from the Anglosphere to the rest of the world, mostly with the help of retail campaigns and popular culture. Neither young adults nor children will say no to a fun night of dressing up, not to mention decorating your house with spooky designs and going trick or treating around the neighborhood.
Which retailers were the most successful this year by using Halloween-themed campaigns in the online world? We have collected and analyzed the public online mentions of Halloween from eight European countries, and zoomed in on the promotions and giveaways.
From the middle of October to the start of November, Halloween had 20 to 25 thousand mentions in Austria, Denmark, Finland, Hungary, Norway and Sweden, almost 160 thousand in Germany and close to 10 thousand in Switzerland, with a positive overall Web Opinion Index everywhere but Hungary (but it was closer to neutral there, too). Based on these numbers, it is safe to say that Halloween was a hot topic in all of these places, and most of the online conversations had an enthusiastic vibe.
The happy mood can also be perceived through the key topics of the conversation. Note that in half of the examined countries, the offers and promotions already made it into the key topics' list:
DACH: creepy, children, party, pumpkin, sweets, horror, door, joy
HU: celebration/activity, party, child, mood, promotion, evening, movie, horror
DK: fun/joy, pumpkin, order, family, offer, evening, blood
SE: pumpkin, children, horror, family, evening, store
FI: pumpkin, offer, party, vibe, chocolate
NO: family, pumpkin, child, evening, recipe, tradition, vibe, horror
Determining top content
Halloween themed posts by retailers did not get among the most engaging Halloween-related content overall in 6 of the 8 examined countries; the exceptions were Hungary, where Aldi's funny video on TikTok made the absolute toplist, and Finland, where Lumise.fi did a popular Halloween giveaway, also on TikTok.
However, lots of other retailers had engaging, successful content which – even if it could not contend with costume making, DIY ideas, memes, and funny tweets – definitely got lots of users clicking, sharing and commenting.
We have measured success by engagement, which includes the number of likes/reactions, comments and shares across all platforms. The type of content that got the highest engagement can be sorted into four different categories which span over all eight examined countries.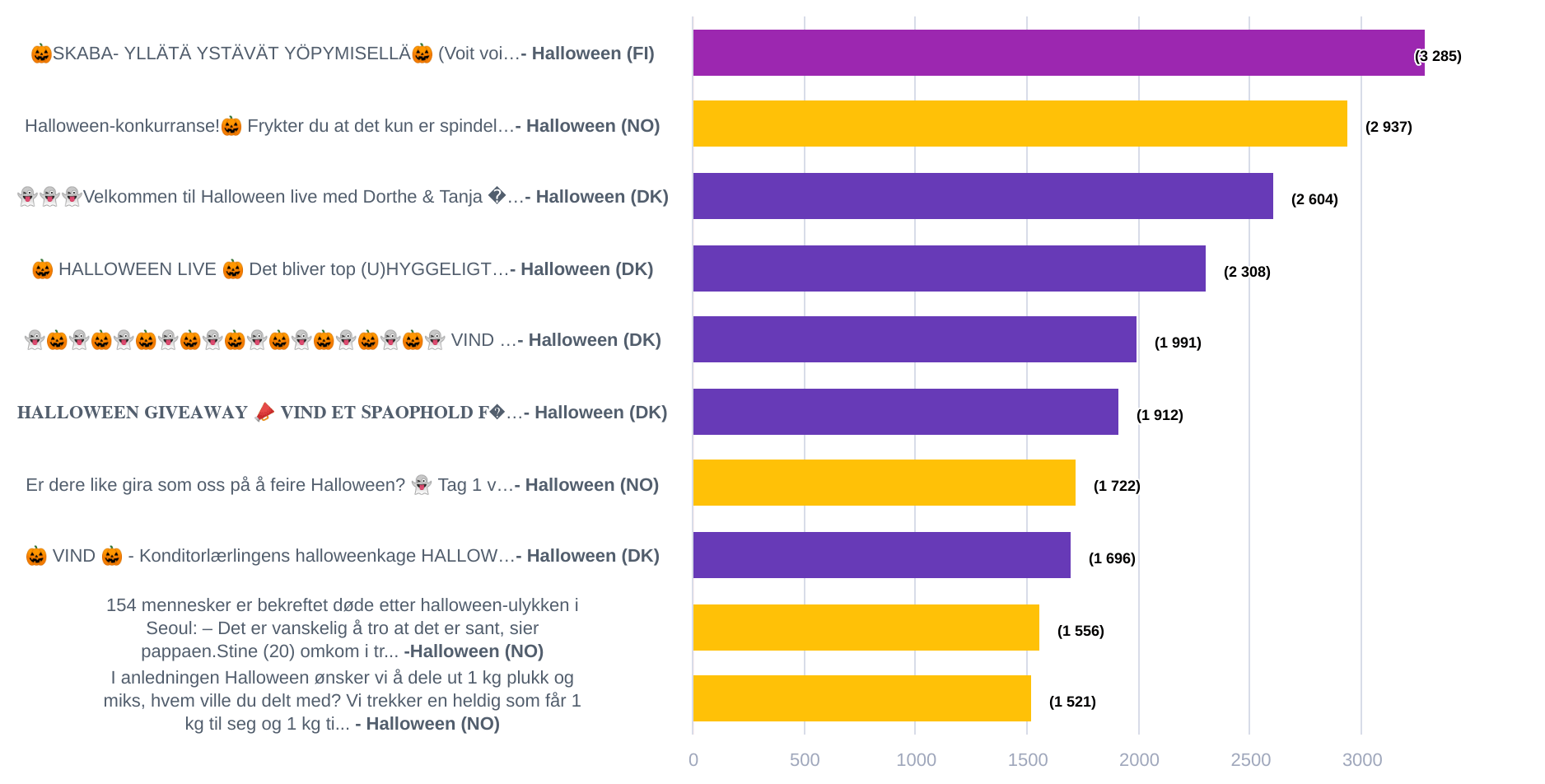 Most commented mentions in Nordic countries
Give us all the candy!
Since trick or treating is the most important Halloween tradition, and most people love sweets anyway, the most common type of Halloween promotion was some type of candy or cake giveaway. They often came in pumpkinlike buckets, like in the case of Norwegian Kiwi grocery store, who gave three buckets of sweets, while Egon Restaurant teamed up with Odeon cinema to give two bucketfuls of candy (also in Norway). Eurospar Norway gave 2kg of pick and mix to lucky winners.
Some rather decided to fill bags or boxes, like Finnish K-Citymarket, who gave away 5kg of licorice candy, Aldi Nord in Germany, where lucky commenters won 20 "scary boxes", or Norwegians in Holdbart grocery store, where two large goodie bags were up for grabs. Popular Danish bakery Ganløse Bageri offered a Halloween-themed cake instead.
It doesn't have to be sweet, but make it Halloween themed
Anything can be the subject of a Halloween giveaway if we paint it in spooky designs, right? Lots of retailers apparently followed this logic, and with true success, too. Hungarians went equally nuts for a Halloween themed doormat by Diego, and other household items by Dr. Padló, or a gift pack by Douglas perfumery.
Some of the more fun giveaways include the one by Coop in Sweden, who offered tickets to Gröna Lund amusement park, and Danish Hotel Viking, where spooky travelers could get their hands on a spa stay for two. Also in Denmark, Bilka offered a Haribo beanbag chair, while Chicorée in Switzerland offered clothes.
There is only one thing better than eating scary sweets: making scary sweets!
Halloween crafts and recipes were all the rage across the internet, and some retailers joined this by sharing spooky recipes featuring their own products. This is the logic that Finnish dairy manufacturer Valio followed by sharing a cobwebbed cake, Swedish Hemmakväll candy store shared cocktails with candy in them, while Ica Sverige showed how to make a pumpkin out of cheese.
Pumpkin themed recipes worked elsewhere as well: Lidl Deutschland got super popular both on Instagram and Facebook by sharing a pumpkin that seemed to be vomiting guacamole. Finally, Danish Dansukker's recipe featured cute spiders, and Granini Switzerland stylishly showed a bloody drink.
It's Halloween, so we must chime in
The fourth category is rather miscellaneous: lots of retailers had engaging Halloween posts that did not necessarily talk about one product or deal, but wanted to share something interesting, funny or cute to keep the conversation with their followers going.
This was the case with Hungarian Hell Energy, who did not miss out on calling the holiday Hell-oween, or T-shirt manufacturer Pamutlabor, who shared a two-minute video on TikTok talking about the origin story of the holiday. Still in Hungary, TopJoy wanted to convince followers to match their drinks with their costumes, while Purina Switzerland featured a scary black housecat.
Migros Switzerland made a funny video about shopping for pumpkins, while Lidl Österreich got its followers voting: did they think of the 31st of October as Halloween day, or World Savings Day? (Halloween won, if you were wondering.) Finally, to keep up the creepy, spooky mood, Lufthansa in Österreich suggested visiting European castles by air.
Anything goes if you make it fun
Looking through the long list of successful Halloween posts, it's safe to conclude that there are tons of ways to approach the topic, and the main thing that matters is that you are creative, and offer something of (real or perceived) value to your followers. Giveaways still work, but Halloween is typically a holiday where everyone lets their imagination loose, so the more colorful and entertaining you make it, the better!
Which was your favorite promotion this year?
Get your own (scary) campaign analysis!
---

Share: