The collapse of FTX and the power of Twitter
History's biggest cryptocurrency scandal has just played out in front of our eyes: we had to harness the power of social listening to better understand how events unfolded. Follow along for a thorough analysis.
2022 has been tough for many people investing in cryptocurrencies: Bitcoin's price has been falling throughout most of the year, but nobody anticipated what would happen at the beginning of November. After CoinDesk had aired that there may be manipulations behind cryptocurrency exchange FTX, its biggest rival, Binance, joined the conversation on Twitter. Binance's CEO Changpeng Zhao (commonly known as CZ) announced that they would be selling their holdings of FTT, FTX's native token. This led to a huge loss of trust and customer withdrawals, and eventually, the collapse of FTX.
Hundreds of thousands of users lost their assets as news of mishandled funds started to leak, and the story of FTX turned out to be the largest scam in history. Bitcoin's price plummeted even further (10% in one day), as it dawned on many people that it wasn't only large financial institutes and governmental organizations that could mishandle and lose your money: it could happen to decentralized cryptocurrencies as well. FTX was founded by Sam Bankman-Fried (SBF) in 2019, and had more than a million users in 2022. FTX used their native token FTT to finance the hedge fund Alameda Research, but this unlawful and complicated dependency created a situation similar to the banking background of the 2008 economic crisis.
Twitter has always played a role in how the prices of the stock market went up and down, but in FTX's case, it was possible to follow the whole scandal almost step by step. For this analysis, we have collected all public mentions of FTX from the web of Germany and the United Kingdom between the 1st and 24th of November, and examined the results.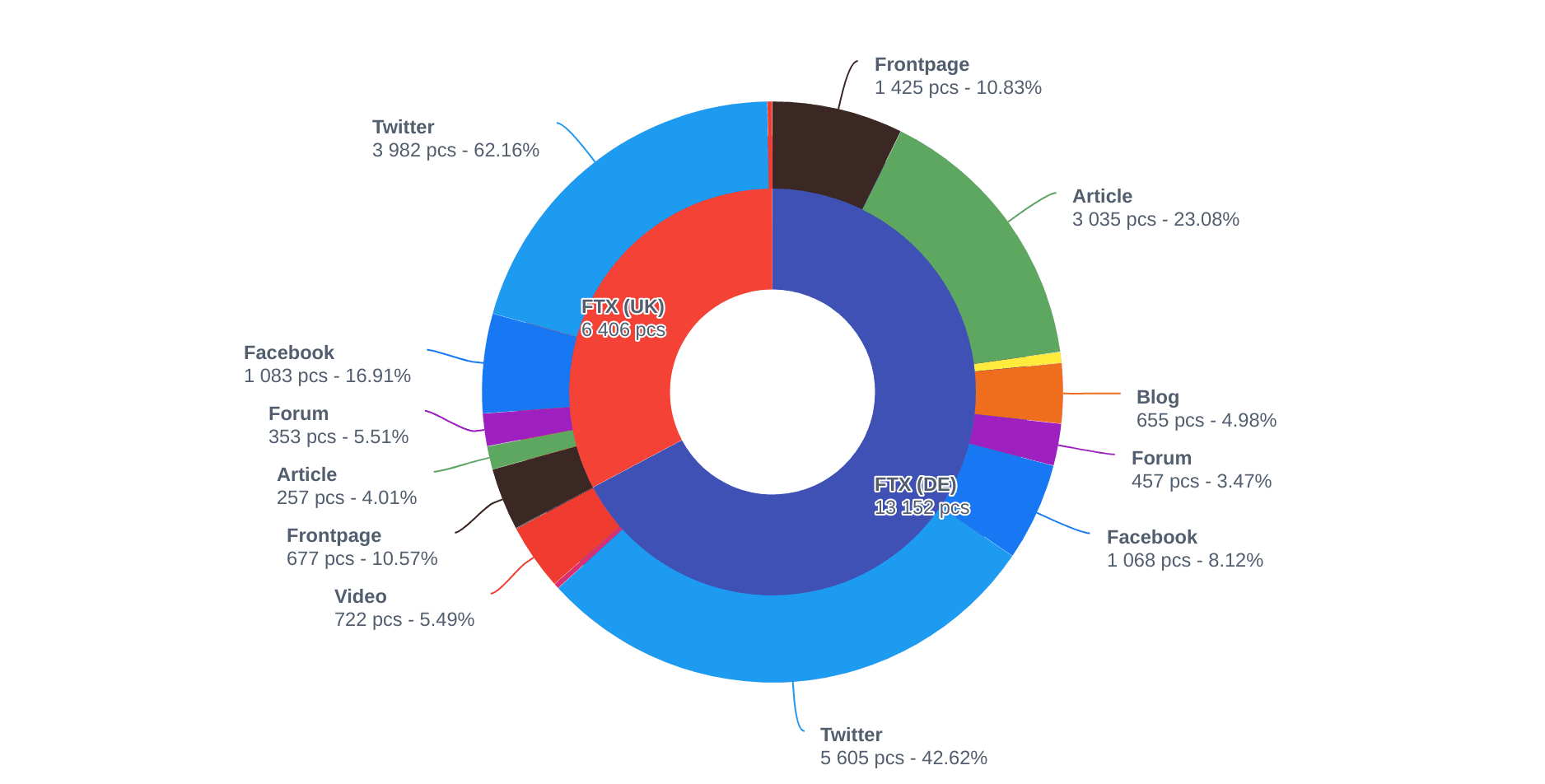 It is no surprise that the largest portion of the conversation in both countries happened on Twitter, however, in Germany, the ratio of news coverage was much higher. There were also more blogs and vlogs that talked about FTX there than in the UK.
At the start, the most shared mentions each day were usually the tweets of CZ or Binance, like the one linked above – but also when Binance offered to buy FTX on the 8th of November, and the next day, when it withdrew the offer. It continued with SBF trying to make amends, but then as more nasty details saw the light of day, the situation got out of hand and different user analyses and sarcastic tweets got the most attention. The daily amount of mentions shows how the scandal got bigger and bigger.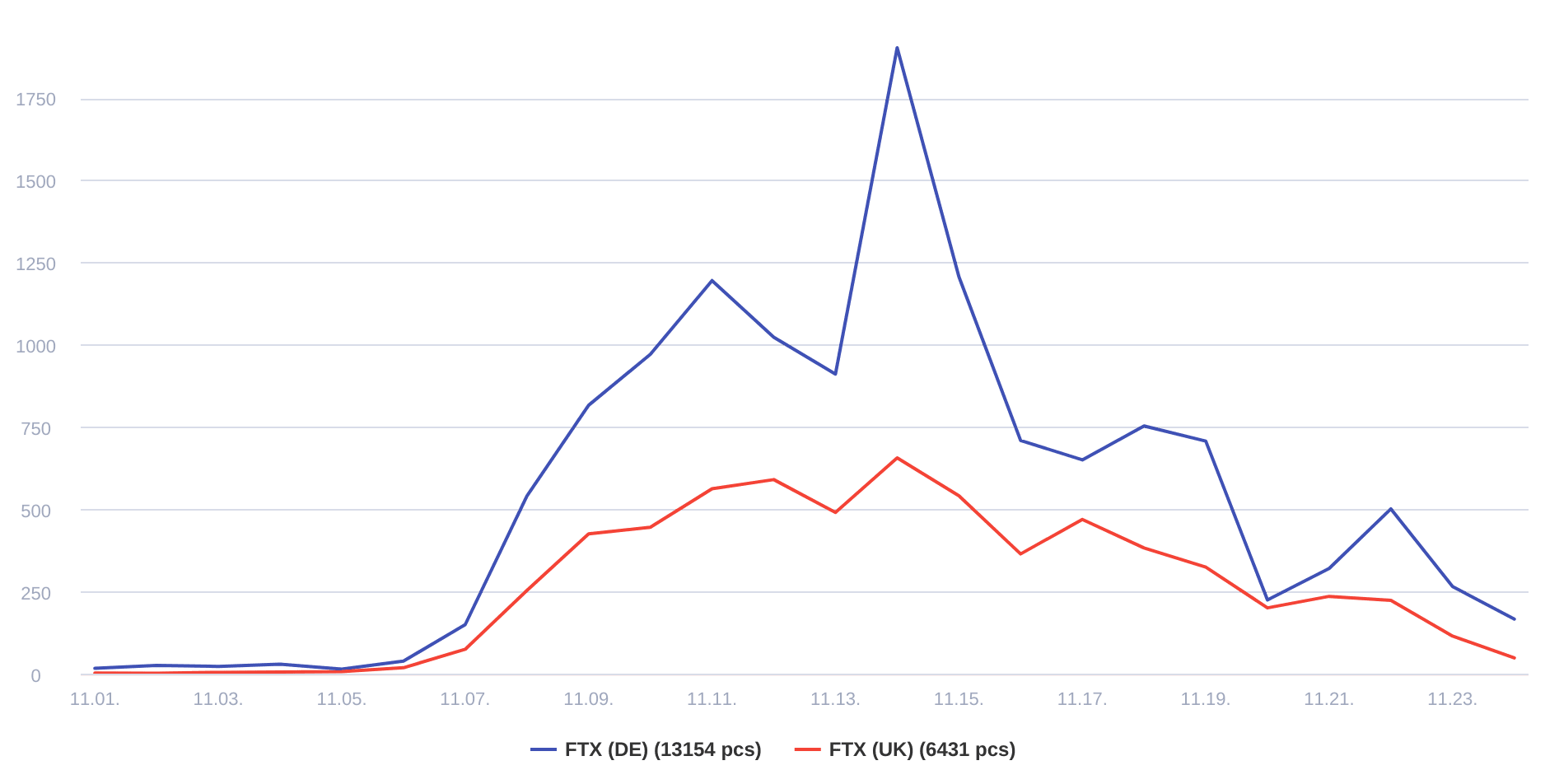 At the peak of it all, the connections between FTX, the war on Ukraine and Democrats in the US became the main talking point, as SBF had been the second biggest non-corporate donor of Joe Biden and the Democratic Party as well, before he suffered the fastest collapse of private assets (and reputation) ever. Germans also blamed Ukrainian president Zelenskyy for risking and eventually losing the country's financial aid.
So Biden gave loads of money to Ukraine, who gave loads of money to FTX, who gave loads of money to Democrats.

Sounds like a potentially massive scandal the media will have absolutely no interest in covering.

— Seth Dillon (@SethDillon) November 14, 2022
Wolodymyr #Selenskyj hat offensichtlich viele hundert Millionen Dollar Hilfsgelder für die #Ukraine an der #Krypto Börse #FTX angelegt. Er wollte so aus 100 Millionen mehr machen – jetzt ist FTX bankrott. das Geld ist weg. pic.twitter.com/cVzGGtXEi8

— swalth (@swalths) November 13, 2022
Not much later, Elon Musk of course also joined the conversation and got super high engagement, especially since CZ and SBF had both backed him in buying the platform as they were naturally aware of its key role in influencing the crypto market.
Twitter has broken just about every piece of this FTX story using blockchain analytics, while NYT is writing puff pieces on a criminal.

Feels like a turning point for citizen journalism and loss of trust in MSM.

— Brian Armstrong (@brian_armstrong) November 16, 2022
The online reputation of FTX naturally took a nosedive in both examined countries, but especially in Germany, where the topic had way more mentions anyway.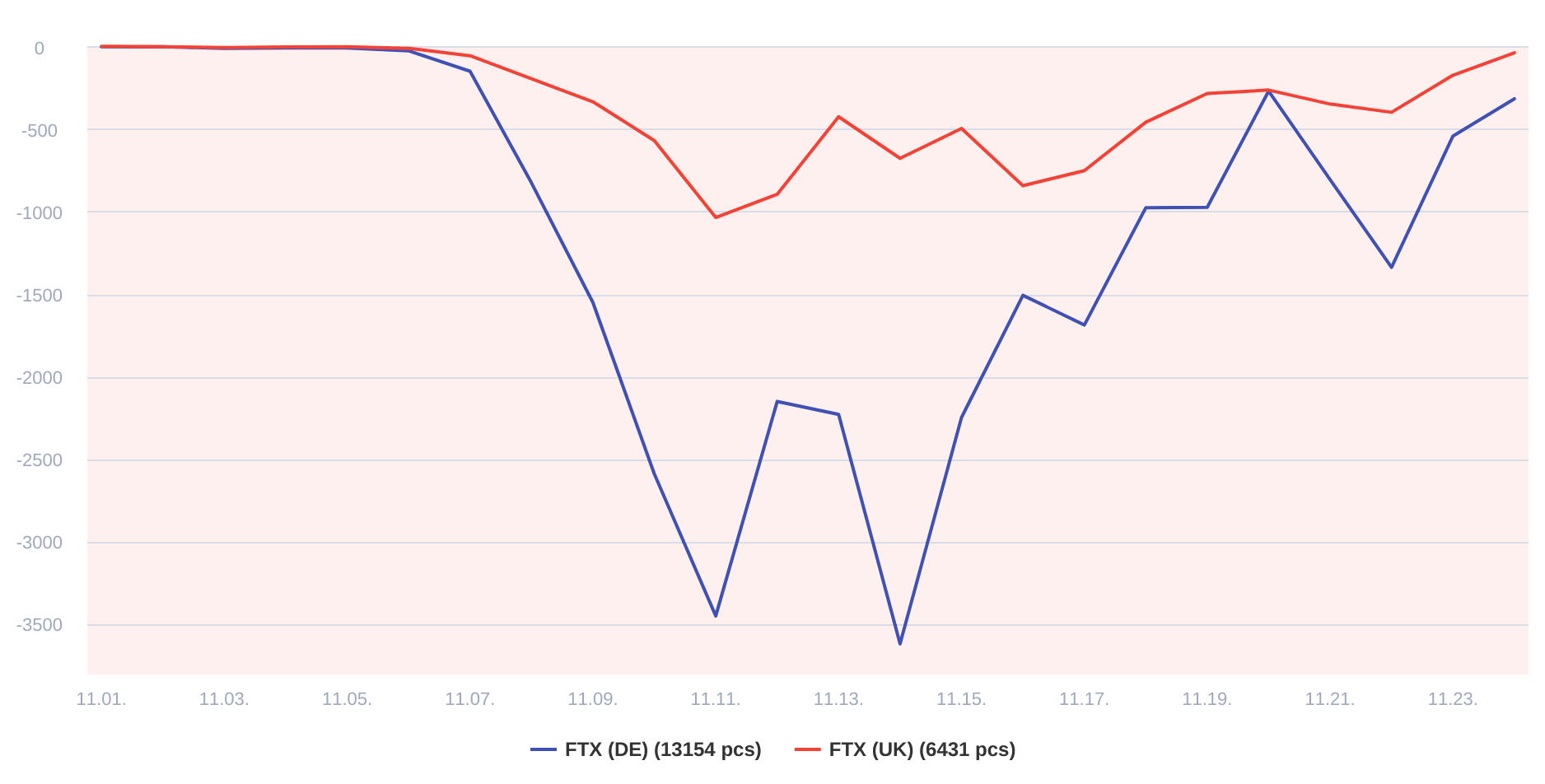 If there ever was a scandal that highlighted the power of social media, this is probably it: once the CoinDesk article was published, there was no stopping tweets from altering – and in the end, finishing – the story of FTX. Nobody in the business of trading with cryptocurrencies can spare paying attention to online platforms, especially Twitter. If you're in finance yourself, this is a gentle nudge to start monitoring some keywords…
---

Share: