This title wasn't generated by ChatGPT, but you wouldn't hate it if it was
Since its launch in November 2022, ChatGPT has not only been a major topic of discussion but it's also been adopted by a wide range of people, to write sales materials, birthday wishes, or even just the everyday email. Is it simply a tool to help spare us time doing our day-to-day tasks, is it going to take some of our jobs, or is it something scary and mysterious even?
We bet these questions have come up in your conversations around ChatGPT, too, but what does the online audience have to say about it? To give an answer to this question, we have collected the AI chatbot's public online mentions from the beginning of 2023 till the end of June, from four European countries: Austria, Germany, Hungary and Poland.
Do you think the majority of people online are in favor of ChatGPT? If you guessed yes, you were mostly right: Hungary is the only country out of the four where negative opinions (27%) had a higher share than positive ones (18%), while neutral opinions had a share of around 55-59% in all four. The Germans seem to be the most fond of ChatGPT, where a quarter of the mentions were positive.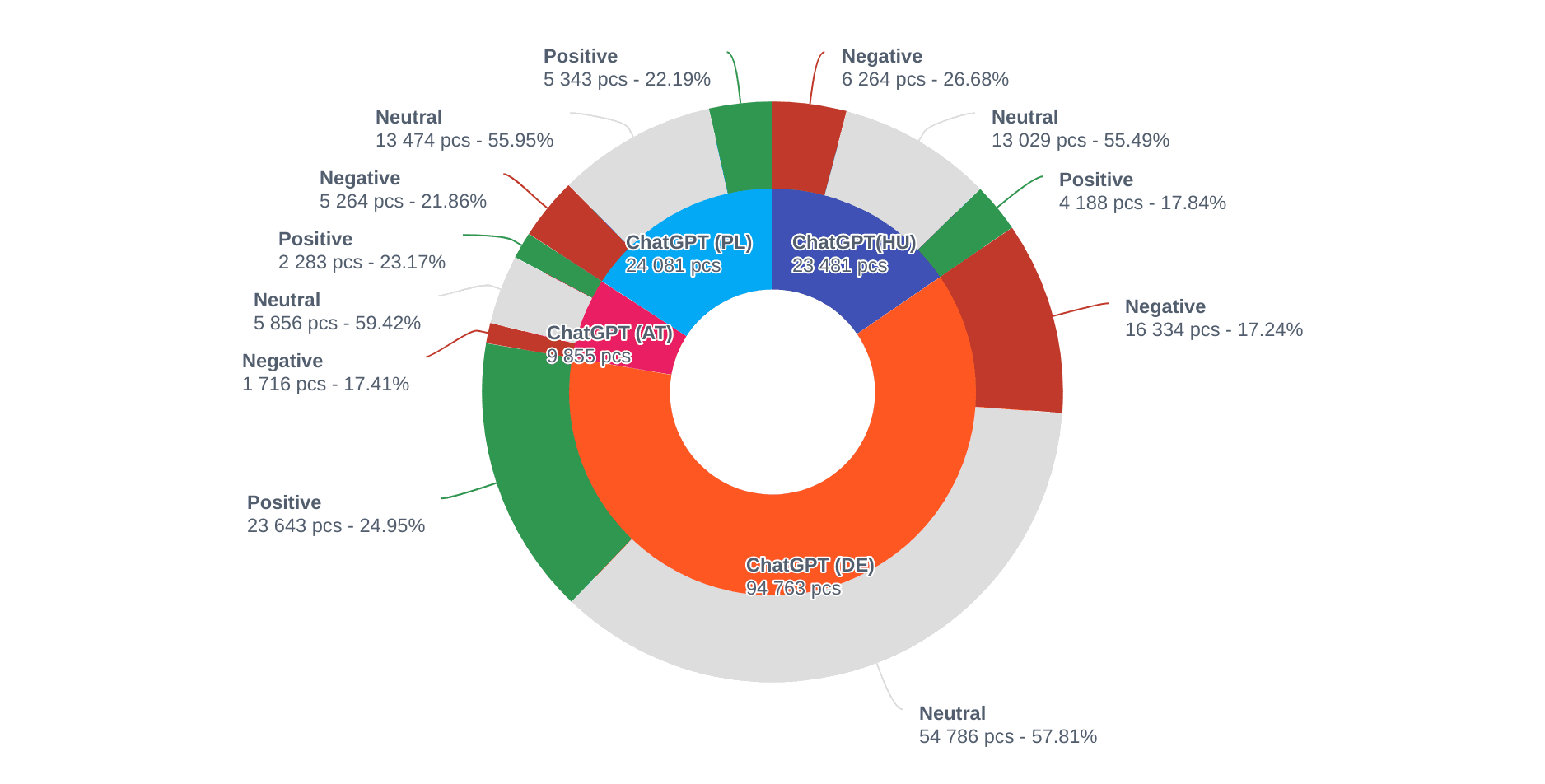 Where did people talk the most? The largest contribution came from the media: 61% of Polish mentions were either frontpage or simple articles, but the share was still quite high in Hungary, Germany and Austria with 47%, 45% and 37%, respectively.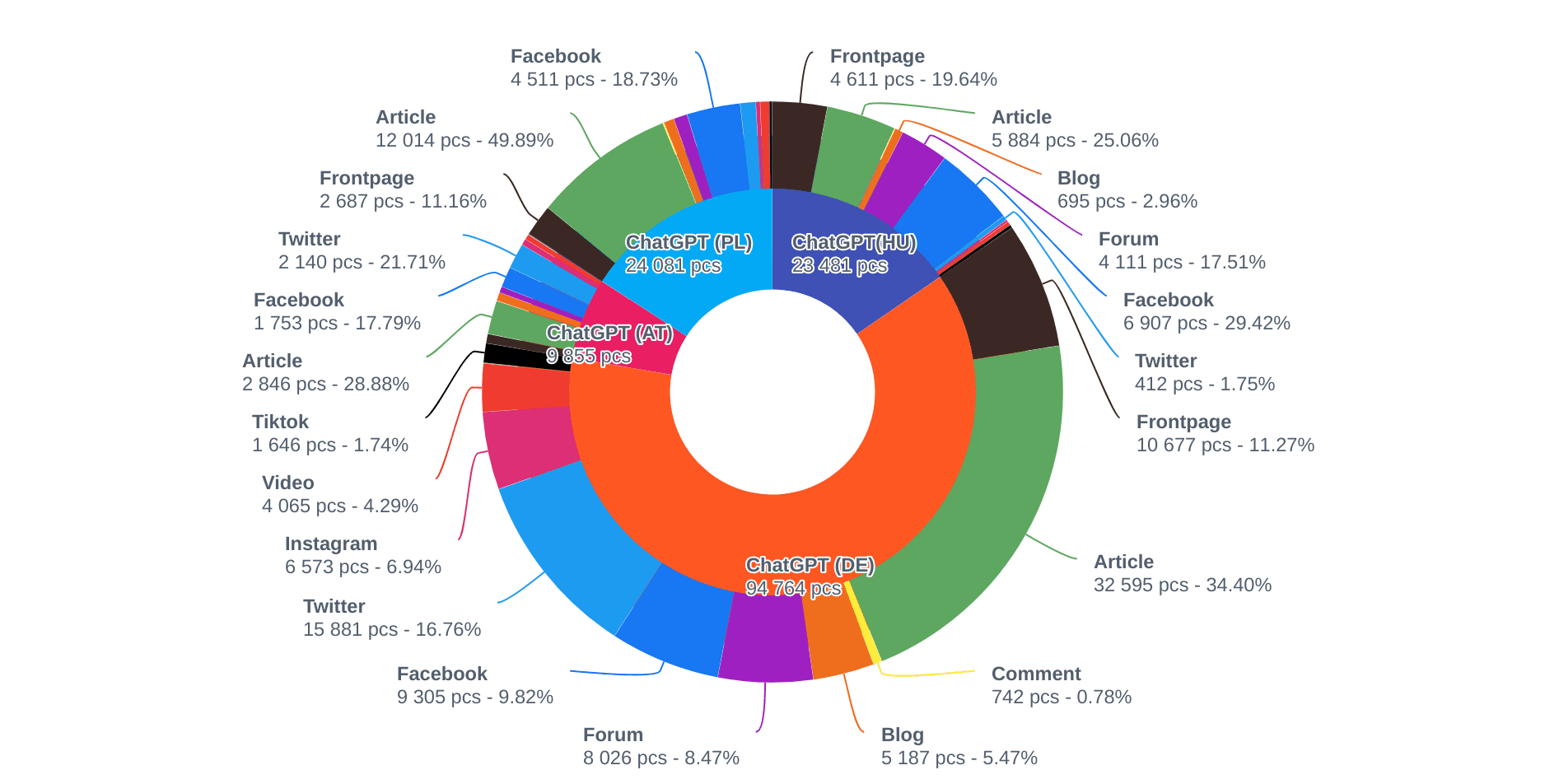 Key topics that people talked the most about included jobs and schools being threatened in Germany and Austria, as well as costs spared and banning the chatbot. The Polish mentioned fraud/scams a lot (we'll shortly see why), and schools as well. Hungarian key topics included help (as in ChatGPT being helpful in many ways) but also talked about the mistakes it made, its rivals like Claude AI and Google Bard, and the risks it meant for society.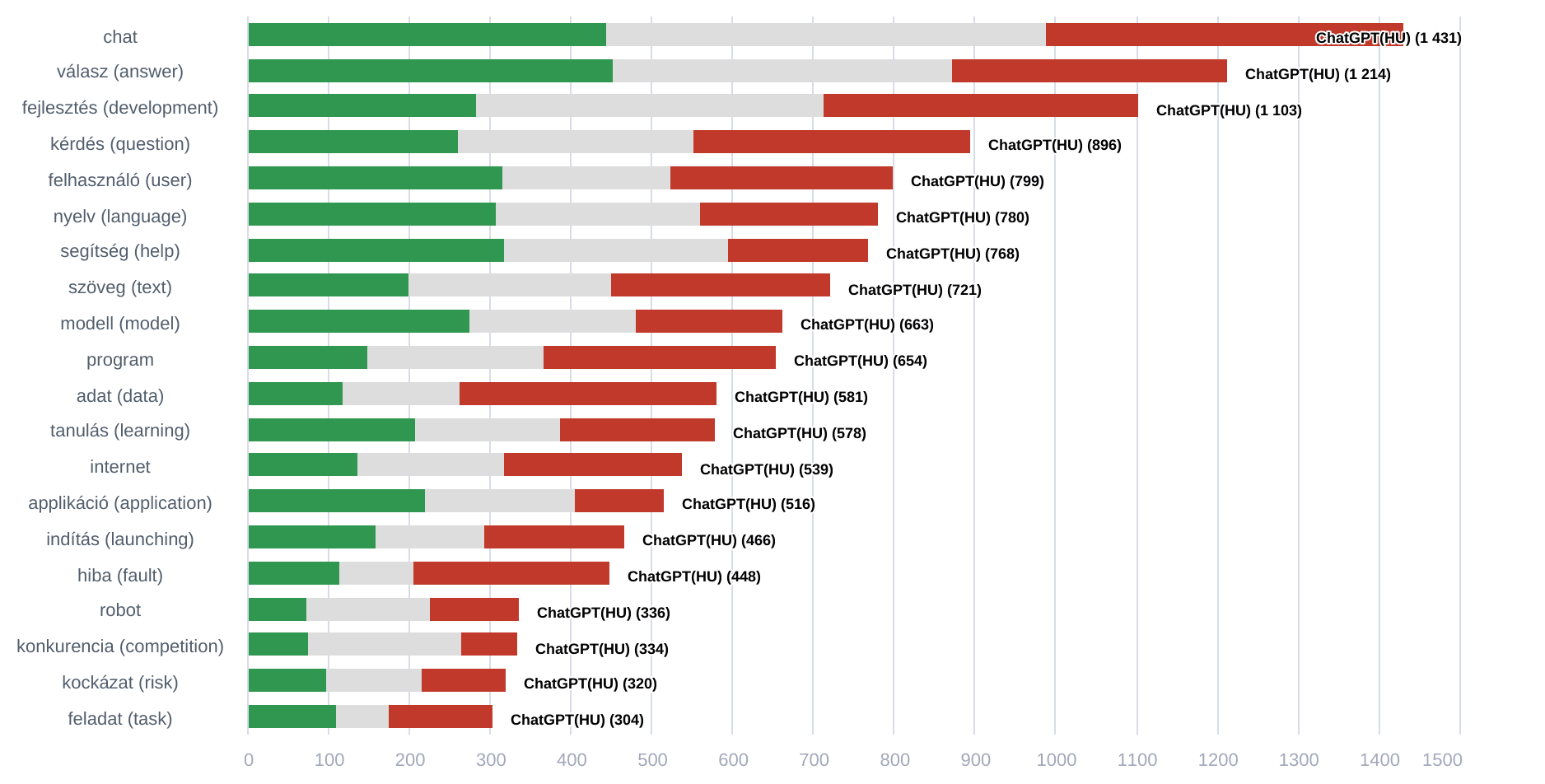 Key topics in Hungary
The online mood showed a love-hate relationship
Let's see some of the major events that resulted in outbursts of positive or negative opinions. Neticle's own Web Opinion Index shows us how the online mood shifted each day throughout the examined period.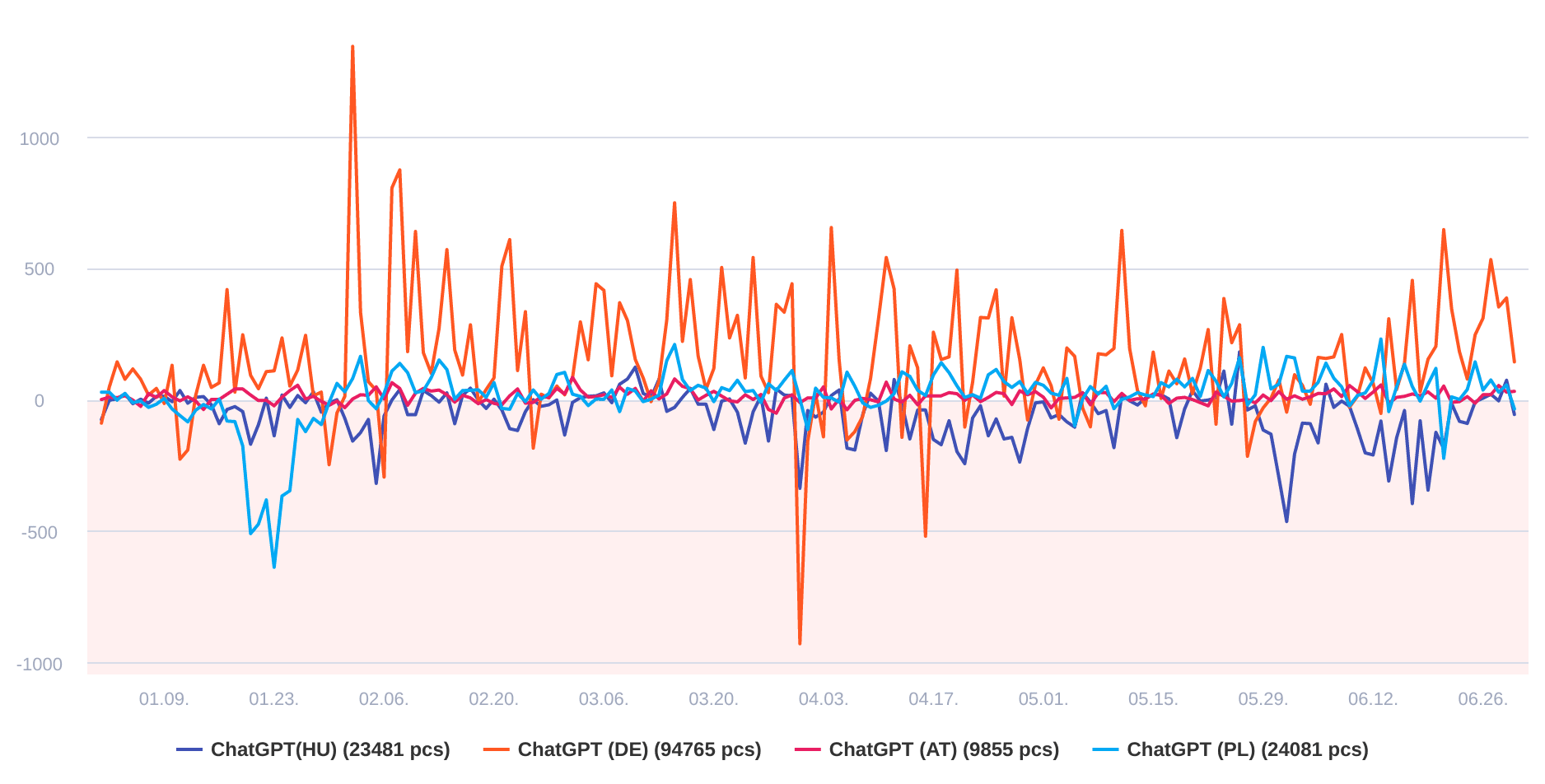 On the German web, the year started with the good news that ChatGPT was going to get a paid version, with a subscription model and extra features, so on the 2nd of February, there was a large positive peak in the online mood. However, at the end of March, a significant negative peak was caused by the news that Italy banned the AI chatbot. The Italian authority criticized in particular that the developer, OpenAI, had no legal basis for the mass collection and storage of personal data. There was also a lack of measures to protect minors. Finally, in the middle of April, even the German Minister of Digital Affairs, Volker Wissing called for regulation, saying "artificial intelligence has arrived in everyday life, and it will fundamentally change it." Wissing called on the EU to react quickly, and reasonably regulate AI before it's too late.
Large daily peaks in Poland were also rather negative: in January, the media reported that IT hackers from Russia had harnessed ChatGPT to extort ransoms, while the chatbot was also causing concern among educational institutions due to its ability to evade plagiarism detection tools. Austrians were also worried about school, but also about work: according to a study published in March, one third of Austrians felt their job was threatened by ChatGPT, and two thirds would ban it from schools.
Mood swings on the Hungarian web were heated by political debate. On the 5th of February, media reported that Péter Márki-Zay, the candidate of the opposition challenging Prime Minister Viktor Orbán in last year's parliamentary election, asked ChatGPT how to bring down Orbán's regime. There was a lot of online discussion around Italy banning ChatGPT and the chatbot's influence on Gen Z's work environment, too.
From parodies to serious warnings
The most popular content in each country, however, shows a wide variety in what got people commenting and sharing.
In Germany, a parody video on TikTok was #1, making fun of students writing homework using ChatGPT and teachers using it for scoring them, too. School seemed a really popular topic (as we've seen in the key topics section as well), because the second most engaging post, by @zdfheute on Instagram talked about how ChatGPT did surprisingly well on American medical school exams but had disappointing results in the Bavarian Abitur.
Austrians seemed to enjoy a more practical approach, as the top posts there were retweets from American businessmen. In longer threads, they shared tips on how to use ChatGPT as a free assistant, and on how to work with the tool on a more professional level.
ChatGPT is a FREE assistant.

But most people don't know the best ways to use it.

Here are 8 ways ChatGPT can save you thousands of hours in 2023:

— Joe Speiser ⚡️ (@jspeiser) January 2, 2023
In Poland, comedy took the top spots with a TikTok on letting ChatGPT write the video script, and YouTuber Pasut's video where he stated "​​I know all the answers, I'm like Chat GPT".
The AI chatbot has made it into the kitchen as well: in Hungary, popular cooking site nosalty.hu shared a TikTok video where they followed ChatGPT's recipe to make Coca-Cola spaghetti. The second most popular post was more sobering, however: on his Facebook page, infamous doctor György Gődény shared a video analysis by media critic Médiavadász, where they talked about the limitations of ChatGPT and how to avoid allowing it too much influence over our lives.
This isn't over…
The trend in our data clearly shows that discussion around ChatGPT is far from getting cold. Many of us are still trying to wrap our heads around it, trying to work out how best we can benefit from it, or how much we should trust it. It will inevitably bring up controversial issues and we'll need to, as a society even, decide what to allow and where to draw the line.
Is understanding the reputation of AI crucial for you? You can always keep an eye on the online conversation using Neticle's social listening. Book a demo if you have a specific topic in mind.
---

Share: