How has the sharing economy changed in Germany during 2020?
Overview
In 2020, scientists and activists started sounding alarms about the climate crisis more than ever, but at the same time, another crisis struck that we all know too well: the COVID-19 pandemic. While people were told to spare and share resources, and also to stay away from each other, Neticle decided to investigate one of Europe's largest sharing economies: the one belonging to Germany. With more than 68 thousand online mentions of 12 brands analysed, this ebook harnesses the true power of social listening and gives you an in-depth look into the trends of the sharing sector, battling the forces of the two crises.
Challenge
Have people been able to share responsibly while staying safe and clear of infection, or did they abandon one side of precautions in favor of the other? It's not an easy question to answer, but some trends are already visible.
Read the ebook about Germany's sharing economy to find out:
where Germans decided to spend their vacations and how their decisions affected providers of lodging, such as Airbnb and Vrbo;
what the new trends in food sharing are and which apps are on the rise;
how the focus between modes of transportation shifted; whether people preferred cars to public transport, scooters, bikes or vice versa.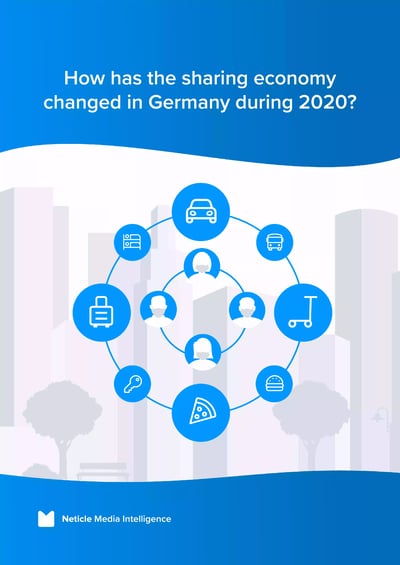 Download ebook
Get yourself a copy of this ebook, dive into the insights and enjoy the world of automated social listening.