The added value of automated market insights in social listening
Why is it important to stay well-informed all day about your brand's online mentions? In the webinar we demonstrate different use-cases about how automated notifications are applied in a smart social listening toolkit.
Being aware of unexpectedly high mention numbers of market players or relevant topics will also keep you among the most informed. It will allow you not just to follow, but create trends.
The intelligent system will notify you before an outbreak of a crisis. To prevent this, you'll be able to take steps and avoid serious brand damage.
Curious about your competitors? With a complex setup you can be up-to-date about their campaigns, activities, and public client feedback.

Panelist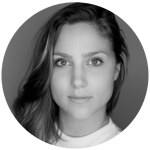 Anna Obrcián
Client Success Manager
Watch the video now
Reading about Neticle Media Intelligence is one thing, but we know that the proof is always in the pudding.